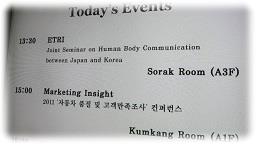 In order to provide a mechanism for scientific and technical cooperation in Human Body Communication (HBC) technology, AMPLET Inc. of Japan and Electronics and Telecommunications Research Institute (ETRI) of Korea agreed to purse scientific and technical cooperation in HBC in accordance with Memorandum of Understanding (MoU).
The purpose of this MoU is to provide a framework for the exchange of scientific and technical knowledge and the augmentation of scientific and technical capabilities of AMPLET and ETRI with respect to HBC.
The 1st Joint Seminar on Human Body Communication Standards, Collaboration between Korea and Japan was held in Seoul on November 22 and 23, 2011.