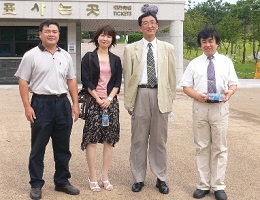 The Chungnam National University (CNU) concluded an education agreement with Nihon University and AMPLET, Inc. We have invited Dr. Hideyuki Nebiya, President of AMPLET, Dr. Kenji Saegusa, Associate Professor of Nihon University, and Ms. Maki Ogawa, Director of AMPLET as Guest Lecturers.
Many Students of CNU have been visiting AMPLET in Tokyo during their Private Trip to Japan. AMPLET has been making Good Friendship with CNU.
We can have good relationship between the Chungnam National University and AMPLET Communication Laboratory.
About the 1st CNU Project in 2006